Reference Guide for Liberty Advantage
Important Note:  Effective December 18, 2020, HNS will no longer contract with Liberty Advantage. HNS Network Physicians will have 90-days from the effective termination date - until March 18, 2021 - to submit Liberty Advantage claims to HNS for dates of service prior to December 18, 2020. For dates of service on or after December 18, 2020, please file claims directly to Liberty Advantage at the address provided on the back of the patient's ID card.
The Liberty Advantage Quick Reference Guide provides information specific to the Liberty Advantage plan concerning Liberty Advantage claims, Liberty Advantage members, and Liberty Advantage policies. The information in this section is in addition to the HNS/Payor Policies. The Liberty Advantage Quick Reference Guide contains the following information specific to Liberty Advantage and provides you with helpful information regarding your Liberty Advantage claims.
---
General Information
Liberty Advantage HMO SNP ("health plan" or "Plan") is a Medicare Advantage Institutional Special Needs Plan designed to improve the care for the residents of Liberty Healthcare in North Carolina. Liberty Advantage's target population is an institutionalized Medicare beneficiary who resides or is expected to reside in a Liberty Advantage contracted long-term care (LTC) facility for 90 days or longer.
Please do not send claims directly to Liberty Advantage.  All Liberty Advantage claims must be sent to HNS. Please ignore the claims billing address on the member ID card or any address given to you on the telephone when verifying eligibility and benefits. You are under contract as a participating Liberty Advantage provider through HNS, and our instructions for filing claims supersede information given to you by Liberty Advantage Representatives.
If you have any questions about Liberty Advantage, please contact your HNS Service Representative at (877) 426-2411 before calling Liberty Advantage.
---
Eligibility/Benefits
Be sure to ALWAYS verify eligibility for each Liberty Advantage member.
You can verify member eligibility the following ways:
Please remember to ask for specific information on chiropractic benefits for each member. CLICK HERE to see a sample Verification of Eligibility/Benefit Form.  
---
Prior Authorization
Prior authorization is required for services provided to Liberty Advantage members.
The prior authorization number must be included on the claim form.

The provider is responsible for requesting prior authorization of all scheduled services/procedures. Liberty Advantage recommends calling at least five (5) days in advance of the procedure or service. Requests for prior authorization are prioritized according to level of medical necessity. For prior authorizations, providers should call:  (844) 854-6884.
You may also submit your request via the online portal 24 hours per day, 7 days per week at:  https://planprovportal.align-360.com/EZ-NET60LA/Login.aspx.
---
Liberty Advantage ID Cards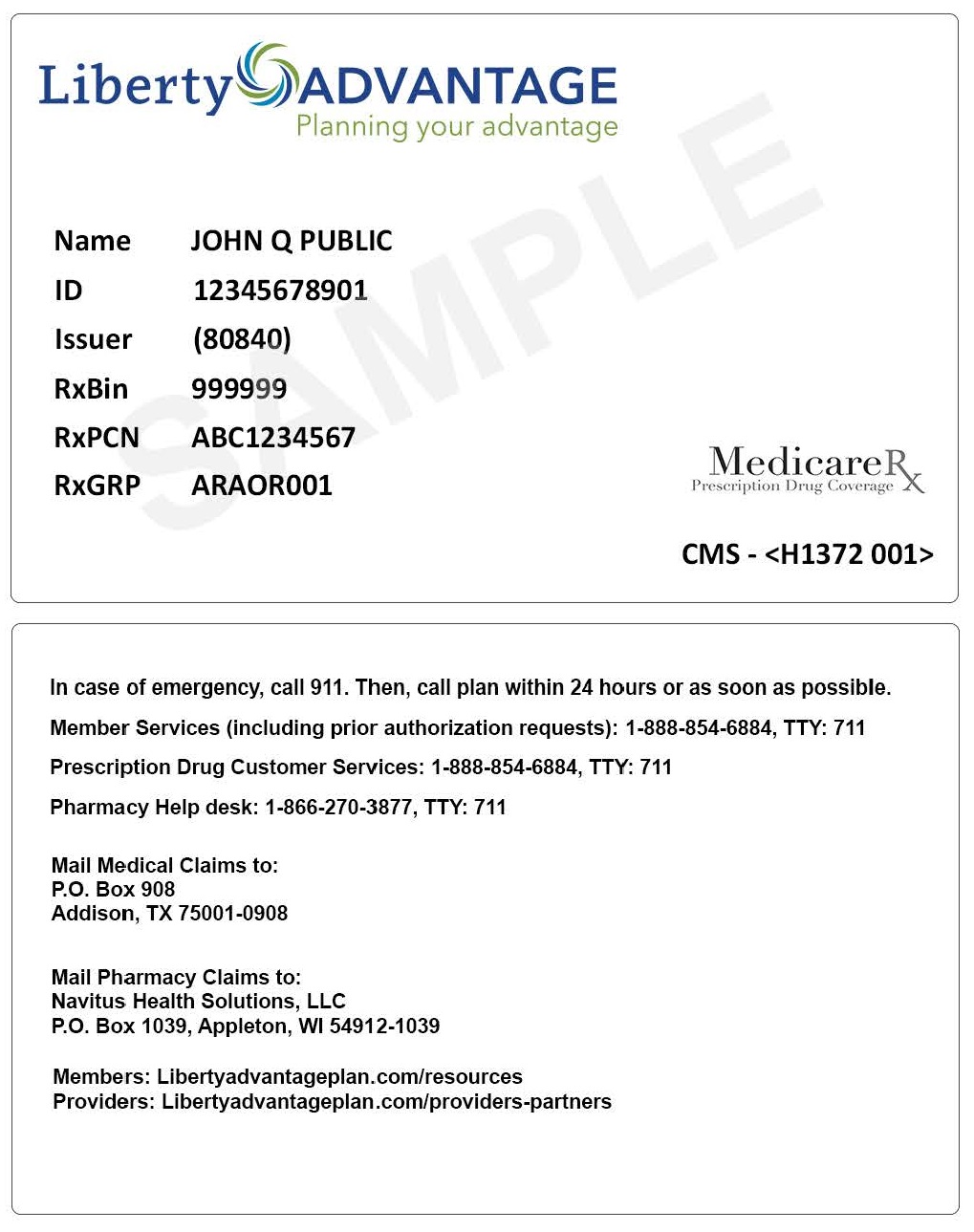 ---
Claims Submission
All Liberty Advantage claims must be submitted to HNS. All primary claims must be submitted electronically to HNS.
CLICK HERE for information on filing corrected claims.
In order for Liberty Advantage claims to adjudicate quickly and accurately, please note the following information regarding claims submission specific to Liberty Advantage is in addition to the HNS instructions under Filing Claims to HNS. 
When filing claims electronically, the claim must be identified as a Liberty Advantage claim in the address section at the top of the CMS 1500 claim form using the example address listed below:
Example:
HNS/Liberty Advantage
PO Box 2368
Cornelius, NC 28031
Liberty Advantage must be in box 11c.

The prior authorization number must be included in box 23.  
---
Claims Inquiries
For assistance from HNS on claims status, (after 60 days from your billing date), please email your HNS Service Representative, and provide the patient name, date of birth, member ID number and the dates of services in question. We will gladly trace the claim for you and will respond back to you within 3 business days.
Resubmit lost/missing claims through HNS.
Refer to your HNS/Liberty Advantage fee schedule to confirm allowable amounts. All HNS fee schedules are located on the secure section of this website.
---
Provider Relations 
Questions relating to your participation in Liberty Advantage should be directed to your HNS Service Representative at (877) 426-2411.